An awesome photographer (ehem @scottshots) once told me "f8 and be there". What he meant by that is there comes a certain point in one's photographic journey where the hardest part is actually being "there". You may have the latest and greatest gear – but fighting laziness is a battle!
For the past 2 years I've been wanting to check out the Coppal House Farm's annual Sunflower Festival – but I never made the effort. But this year was different – I finally made it!
And believe me when I tell you it would have been easy to stay home that day as there was a heat wave in the New England area and Real Feel temperature was in the 100's!
I wasn't sure what to expect – except from what I saw online. I wasn't sure what gear to bring with me so I decided on taking my 16-35mm lens (great for landscape and ultra wide shots)…
My 24-105mm lens as it'd give me some decent wide angle and zoom range (didn't use it) and my 100mm macro lens to get some super close up detail shots of flowers (more on this later).
I also brought my circular polarizer filter to make the sky more saturated, but because of the angle of the sun it really didn't come in handy. But I decided to take a photo of the effect it can have on the reflection on water to show you guys…
Take a look at the sky ? and the water to ? see what I'm talking about.
I wanted to go a bit crazier and bring some external lights with me to get a bit fancier – but with the heat I knew I probably wouldn't be inspired to use it. Photography is much like camping – the more gear you have, the less you'll travel (in this case take photos!).
Once you get there you take a short walk to the fields and you are greeted by countless giant sunflowers. I'm a city slicker and it's rare to see them grow this tall (as you can't have nothing nice in the city).
Look how big these beauties are! Hand for scale…
Now if you have allergies or are allergic to bees – THIS IS NOT THE PLACE FOR YOU as there are bees everywhere. And for me this was great news as I've been wanting to get a decent shot of insects but it's hard when there aren't many to shoot. Plus they tend to zip around and not stay in one spot. But in Coppal House Farm it was not a problem!

(WOO HOO! MY FIRST DECENT INSECT PHOTO!)
Check out the busy bees zipping along…
It would have been easier though to come in the morning as the sun would have been behind me. Or I could have used a flash – but I decided to pack as light as possible. So I had to up my ISO a bit higher as using a small aperture along with a fast shutter speed meant I needed all the light I can get.
Although you may not be able to tell, these photos were backlit which made things a bit tricker to shoot. But with the power of shooting in raw and Lightroom it wasn't that big of a deal. It was just something to be conscious of while shooting…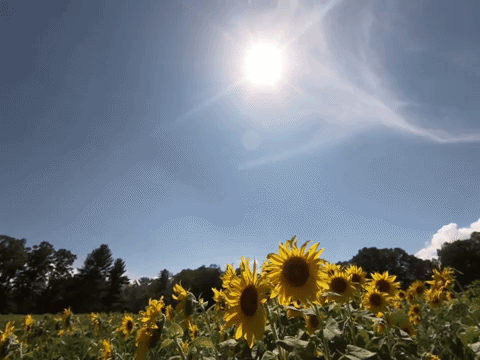 Plus I sweat a lot (even in the winter) and there were very few places with shade. If the weather was better I could have easily worked it for over 5 hours. As crazy as it sounds – I've spent 2 hours just shooting one flower – as in this shot…
But since it was a scorcher I decided to get what I can and keep it moving…
Part of photography is knowing where you're going to shoot. When I shoot weddings I like to scout the venues (if I've never been there before) just so I know what to expect. Part of my thinking for this year was to recon the location.
One thing I have to commend Coppal House Farm is for them allowing professional photographers to sell client sessions at no additional cost (other than admission). They even have sections where they setup for photographers! (I know it may be hard to see but you can see the setup on the right side).
The thought of having some friends or family tag along with me to take photos crossed my mind, but I felt uncomfortable going in cold. Next year I'll know what to expect and I know it's doable!
If you live anywhere near New Hampshire I highly suggest you take a trip next year – especially if you're a photographer! For more info checkout: https://www.nhcornmaze.com/.
On a final note, I also created a video where you can see some more footage. You can check it out here:

?   www.colonphoto.com
?   mikey@colonphoto.com
?   917-703-0346
I'm available in New York City, Boston & worldwide!